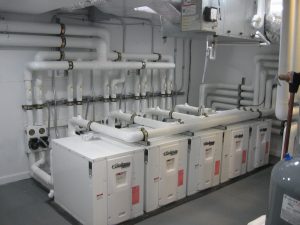 Repairer & Install a Heat Pump
Drain Ratz installs quality heat pumps including pool heat pumps. Heat pumps are generally better than coal, electrical or even solar water heating systems – offering a better solution for environmental protection.Heat Pumps becoming more popular in South Africa as an energy saving and water saving solution.
Heat pumps are a common feature in many European and Eastern countries. It is yet to become more popular in South Africa. The South African local government has started implementing the use of heat pumps instead of conventional electrical water heating systems by awarding a Government Rebate to the consumer. Of late Eskom has declared that Heat pumps are now becoming a cosmetic feature in homes. The initial essence of energy and water saving has been lost.
Heat pumps can be used for heating and cooling. Heat pumps will produce 3-6 times the volume of hot water than the average electrical water heaters, consuming the same amount of electricity. Despite it being day or night, overcast or sunny, the ability of the heat pump to generate heat/cooling, is not affected. The heat pump depends on the ground, air and water (which contain useful heat). This heat is replenished by the sun on a daily basis thus making the heat pump an effective source of energy for heating and cooling.
By using just a little bit of electricity, a heat pump can raise the temperature of this environmental heat energy to the level needed for domestic and industrial applications. An average size heat pump will just need 1Kwh of power to turn 2kWh of available environmental heat energy into 3kWh of useful heat. Remember that this environmental energy is free! The fuel consumption and the emissions rate of a heat pump is about 35-50% less than that of a conventional geyser.Heat pump water heaters provide a financial saving via reduced hot water energy bills. The environmental energy is for free!
Heat pump Costs
The capital costs of heat pump may vary depending on the complexity of the system, the material used, the size and efficiency of the system and the installation costs.
Why is it beneficial to install a Heat Pump vs A solar Geyser system?
Quantity of the hot water required.

How efficiently is the system managed by the user (human factor –life style changes) – A heat pump is a tool that provides a hot water saving. The optimum effectiveness of the heat pump is also dependent on whether we are willing to implement changes in our lifestyle. Unlike Solar Geysers, there is not much lifestyle changes to consider with a heat pump installation.

The storage tank size.- This is dependent on the size of your family and basic requirements. Do not supersede this as it forfeits the reason for the installation-energy saving!

The timing settings of the system.

Air temperature. – This is renewable energy in the form of low temperature heat. Does not negatively impact he system at all.
Payback guaranteed
Heat Pumps normally have a simple easy to calculate payback period as in most cases they are retrofitted with a conventional geyser. Check your electrical bill should the heat pump not be retrofitted to a conventional geyser. Drain Ratz plumbers are repairers and installers of quality heat pumps.
Call us 012 940 1969